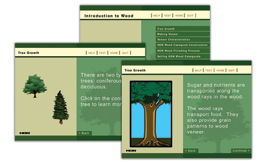 When The HON Company began offering sales training online, DiffStrat was chosen as the developer of several of its online courses.
For example, Introduction to Wood taught entry-level dealer salespeople about tree growth, wood characteristics, and wood furniture construction.
Designed with interactive exercises, quizzes, and animations, this course provided participants a fun, hands-on learning opportunity that increased their knowledge and confidence.